WiFi Surge has the ability to function as a WiFi Repeater or as an access point (AP).
There are advantages and disadvantages to each mode.
The Wireless Repeater Mode is typically a much easier setup as it can be done without using an ethernet cord. However it does create a separate network inside your home where you will need to connect in the dead zone area.
The Access Point Mode (AP) requires an ethernet cord to go from your router all the way to the desired location of WiFi Surge. This mode creates a seamless WiFi connection in your house with no extra networks. If you are able to run an ethernet cable to the area this is the preferred method as there is no need to change networks.

Step 1: Plug in the WiFi Surge
The ideal location is halfway between your router and the dead-zone area. For example, I am having a dead zone in my bedroom and halfway from the router to my bedroom is in my hallway. So I plugged the device in there so it can capture the signal from my router and expand it to my bedroom.
Step 2: Connect to WiFi-Repeater
The device should show a flashing a green light. Go to your computer and navigate to nearby connections. On a Mac computer it will typically be in the upper right hand corner and on a PC it will typically be in the bottom right corner.
The WiFi Surge will show up as WiFi Repeater in the list of nearby connections. Click on it to connect.
You may get a pop up to access the settings but it is recommended to use the browser instead.
Step 3: Accessing the Settings
Now open up your internet browser, this can Safari, Internet Explorer, Google Chrome, Firefox or any browser used for the internet.
Navigate to http://192.168.10.1 or http://myrepeater.net/
You will be taken to a screen like this, where you enter the username as admin and the password as admin. This is the factory default and can be changed later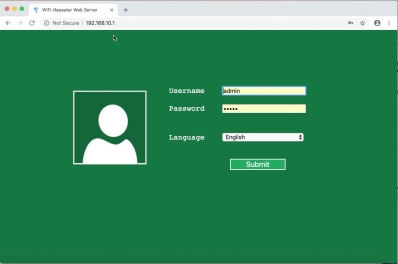 Step 4: Choose Repeater Mode
Once you click submit you will be taken to the home page of WiFi Surge. You can change passwords here, reset the device to factory settings and even update the firmware.
Here you will click on the repeater option in the top left.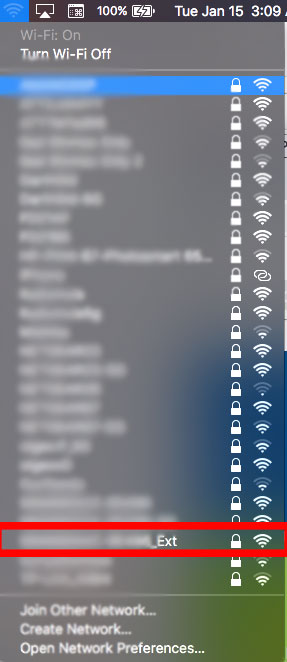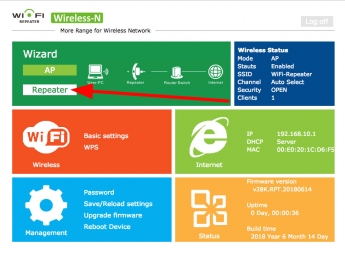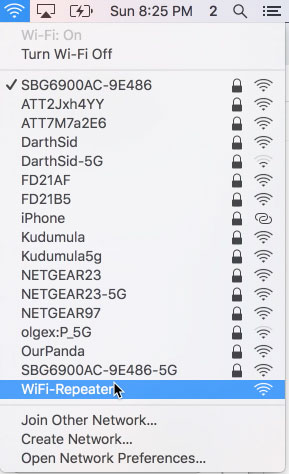 Step 5: Connect to Your Network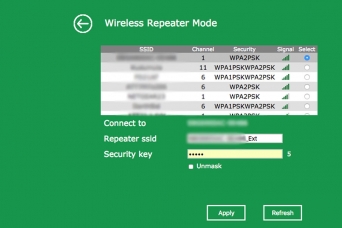 You will be taken to a page like this. Select your current WiFi network in the box.
It will automatically attach a _Ext to your current WiFi network name. You can leave this name so you know which network it is or change it to something else.
Then enter your current WiFi networks password, if you do not use the same password as your home network you will have trouble connecting. Hit Apply.
The bar will start to build up until 100% then the setup is complete.
You will lose internet connection here but do not worry that is normal.
Now, open back up your nearby WiFi Networks again and search for the network you just created. In this case it is my networks name with the _Ext on the bottom.
Then enter the password you created which should be the exact same as your current WiFi networks.
Now you are all connected and ready to use the internet without dead zones!
Quick note: If you make a mistake at any time or want to restart, simply hold the reset button on the WiFi Surge for 10 seconds and it will factory reset.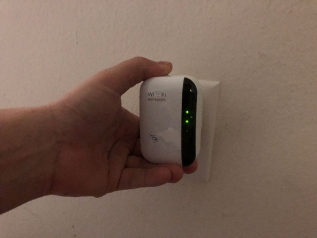 To set up AP mode on your WiFi Surge, please follow steps 1-3 above.
Instead of selecting "Repeater Mode" like step 4 above, select "AP" mode.
Then follow the steps on the second page starting at the blue number 5 inside the PDF instructions below.